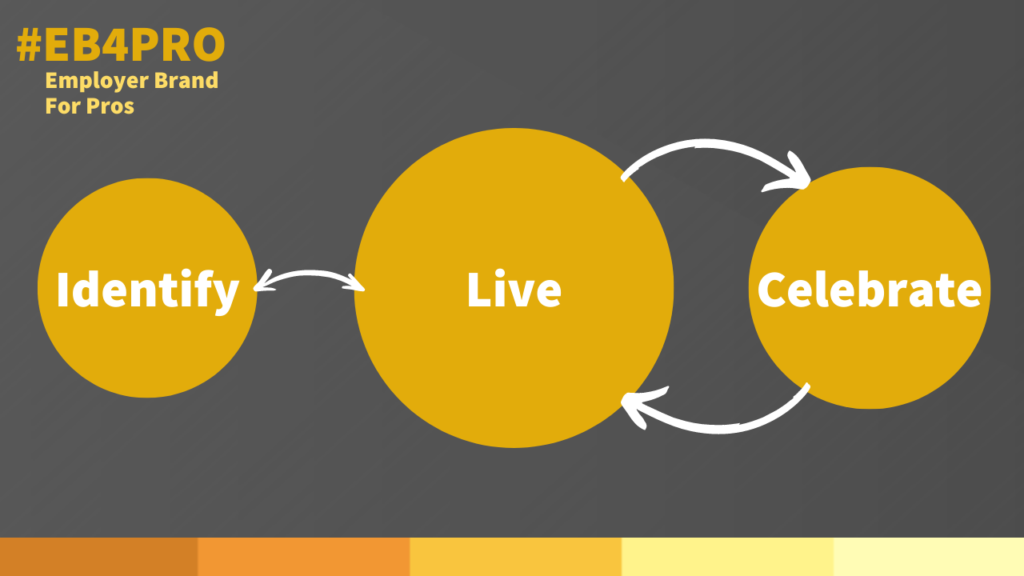 How to Live and Celebrate your Employer Brand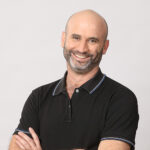 Raz Mitzna
If you accept that Employer Brand Management is a strategic effort to manage your reputation as a place of work, you must have a framework that will enable you to build and push forward just that. On my own Employer Brand journey, I have developed a short and clear framework that helps me and my consultants break down what needs to be done to improve employer brand experience and perception. 
First: Identity who you are as an Employer
This is the starting point. To manage your reputation as an employer, you first must frame your identity by answering the following questions:
Employer Brand Reality: How are you currently perceived as an employer?
If the workplace is a product on the shelf for talent to pick out, what are your 'features' as a workplace? Pay attention to the strengths that attract and engage and the weaknesses that disengage your audience. Before you build your narrative, you must discover how you are perceived by current employees and by talent outside your company. 
Leadership Vision: How do you want to be perceived?
What does leadership want people to feel and say about working in your company? Is that within reach, keeping in mind the current reputation? What can be achieved business-wise? People-wise? 
Your Story: What is your talent promise?
What experience can you promise employees while working here? The talent promise is what leadership agrees upon and commits to taking action accordingly. Usually, it's based 70% on current reality and 30% on your vision. Some call this EVP – Employee Value Proposition. No matter what you call it, we recommend writing it in 4 pillars representing various aspects of your promise and a rallying call as your big idea that will lead to creative and language. (See figure below)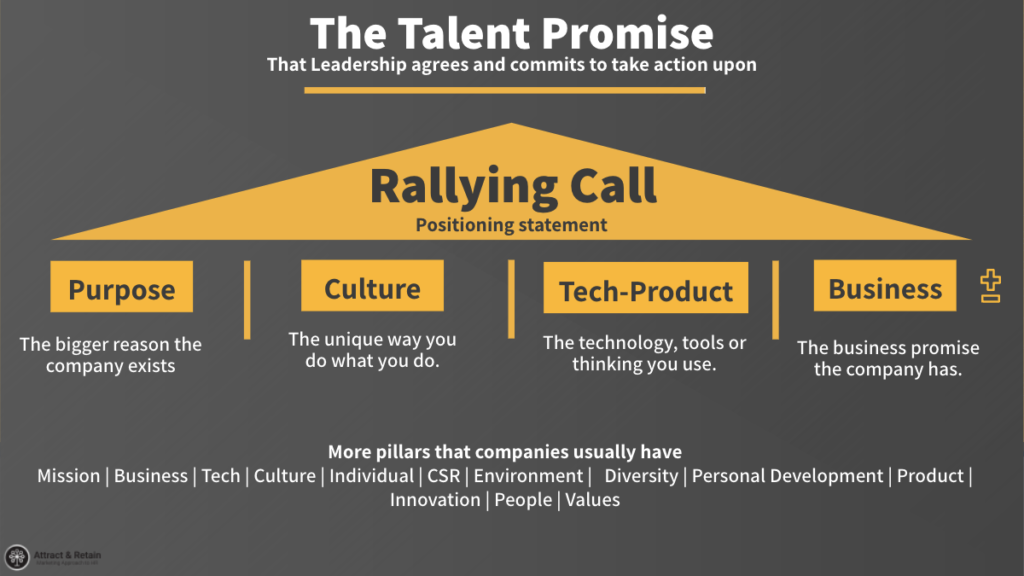 The employer brand efforts will try to draw more people from within the target audience to connect to your talent promise. While It is essential to define your talent promise, It's even more critical to move forward once you have it. Don't worry if you are not 100% certain. It's normal. There are no guarantees, so overanalyzing will get you nowhere. To refine, you must live it.
Live it – Walk the Talk.
Show, Tell, Share, Inform, Be, Breathe, Walk the Talk. It's great to use your talent promise on your career page and social media, but it must be felt by employees regularly.
It's not about what you say; it's about what you do and how employees experience it. 
How will employees feel it in their daily-weekly-monthly work routine?
HR activities should be oriented accordingly, and all efforts connected to the employee life-cycle experience should keep the talent promise in mind. Make it part of the conversation and the workplace setting.
Stakeholders: Who will help, support, and endorse EB efforts?
Employer brand is a joint effort. No one (including the CEO) can build brand experience alone. Managers must be part of building and communicating the talent promise. It's about creating space for the conversation and motivating managers to bring the promise to life. Headquarters also has a vital role in relaying the promise to the employee feed on all internal and external official channels.
What can be measured, and how can you keep track? 
In organizations, you must show impact and progress for an initiative to get support and resources. An essential part of "living it" is deciding what and how to measure progress. 
Celebrate – Don't Just Walk the Talk, Dance it.
Honor, Mark, Praise, Glorify, Party, Publicize, Salute, Acknowledge, Toast, Have Fun. Work is not something we celebrate every hour or even every day. But what about once a week? If we don't find anything to celebrate in a week, how can we expect employees to connect?
Who is happy about company achievements and success?
If employees are not happy, it means they don't include themselves in the company's success story. What about friends and family? When and who can see & feel the company at its best?
What can we celebrate in the workplace? 
My experience has taught me that there is what to celebrate in most companies, but it too often goes unnoticed. We spend so much time at work- it should be a place we are proud of, we are energetic about, where we can see our efforts are making a difference.
Connecting the Dots
So how does this framework look when applied in real life? I have tried to simplify it through one example of how your talent promise can be lived and celebrated.
If you've identified that employees in your company say you have many career opportunities
You can live it by ensuring the topic comes up twice a year during 1:1 meetings with employees and managers and keeping your internal job portal engaging and updated.
Make a plan to Celebrate promotions and have Fun on an internal career discovery day every quarter.
For example, Wix launched their learning program as described by CMO Omer Shai: "Yesterday we launched Inside Up, our new marketing learning program, which kicks off our journey of growing the next generation of Wix leaders."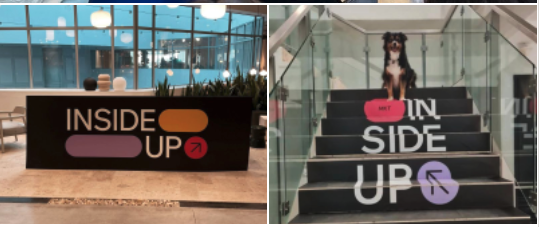 This should be applied to any promise you make, whether it be a parent-friendly company, a culture of innovation, or the opportunity to impact people with your product. 
Companies with a strong and healthy Employer Brand live their brand story and celebrate what they do.
A campaign is nice, a cool video is great, and awesome offices are excellent. But if you want to create a long and enduring change, you must Identify, live and celebrate your Employer Brand.